Siva Exports is one of the Best Black Pepper Appalam Manufacturers in Madurai.
A basic papad is made of ingredients like urad dhall flour, Papad Khar, Hings,Salt & also Water. Orange papad manufacturers India are making vast range of papads to suit every individual requirements. They know the importance of this Indian wafer as people across India are having it with every meal. It is highly served or used as starter with main course meal. It is a perfect example of the genius of Indian cuisine. You can get papad into different sizes and textures like Udad papad, big papads, khakra, Appalam papad, etc. Appalam is the main dish on Indian meal.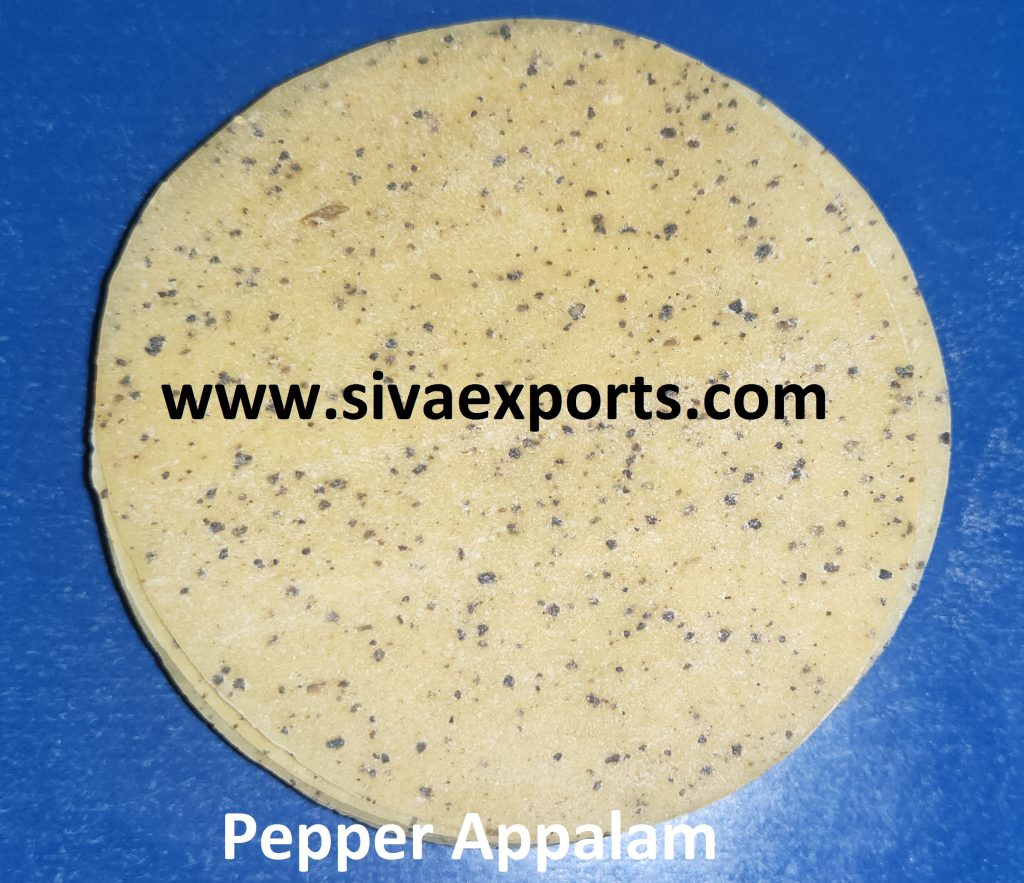 Since We are one of the best Traditional Handmade Appalam Manufacturers in Tamil Nadu. Under our popular papad brand – Orange Appalam,  We Manufacture & distribute handmade Appalam papad and also machine made papad products like Plain Appalam, Cumin-Jeera Appalam, Masala Appalam, Black Pepper Appalam Papad etc. Our papad brand is specially very reliable & popular in Tamilnadu, Delhi, West Bengal, Maharashtra, Hariyana, Rajasthan, MP and UP. We are supplying export quality papad/appalam all over India.
Call it papadum, cracker, or an Indian wafer- papad is a flat bread made from dried lentils. You can eat them in roasted or fried form. Papad exporters India are already supplying a variety of papad flavours to the consumers. We are Indian leading papad manufacturers and exporters.
Besides It is a good appetiser
As Well As It is helpful in digestion
When eaten in moderation, you can avail protein and other nutrients carried out by the ingredients.
Papad is gluten-free food since it is prepare from lentils.
Also Papad has dietary fiber
Moreover Papad is low-calorie snack
Papad act as probiotic snack that assimilate macro and micro nutrients from the food you eat.
Also Papad promotes healthy metabolism.
Contact us:
Siva Exports
Mobile : +91-9042129229
Email : sivaexportsindia@gmail.com
Web : www.sivaexports.com